Use this VaporNodes referral link to create your first Vapor Nodes (VPND) on the Avalanche network:
>> SPECIAL LINK <<
NOT FINANCIAL ADVICE!
What is Vapor Nodes aka. VPND?
VaporNodes is a Node as a Service solution on the Avalanche Network (AVAX).
You can use their own token (VPND) to create nodes. Once you have your node, it generates daily 1% profit for you.
According to their calculator it can compound very nicely: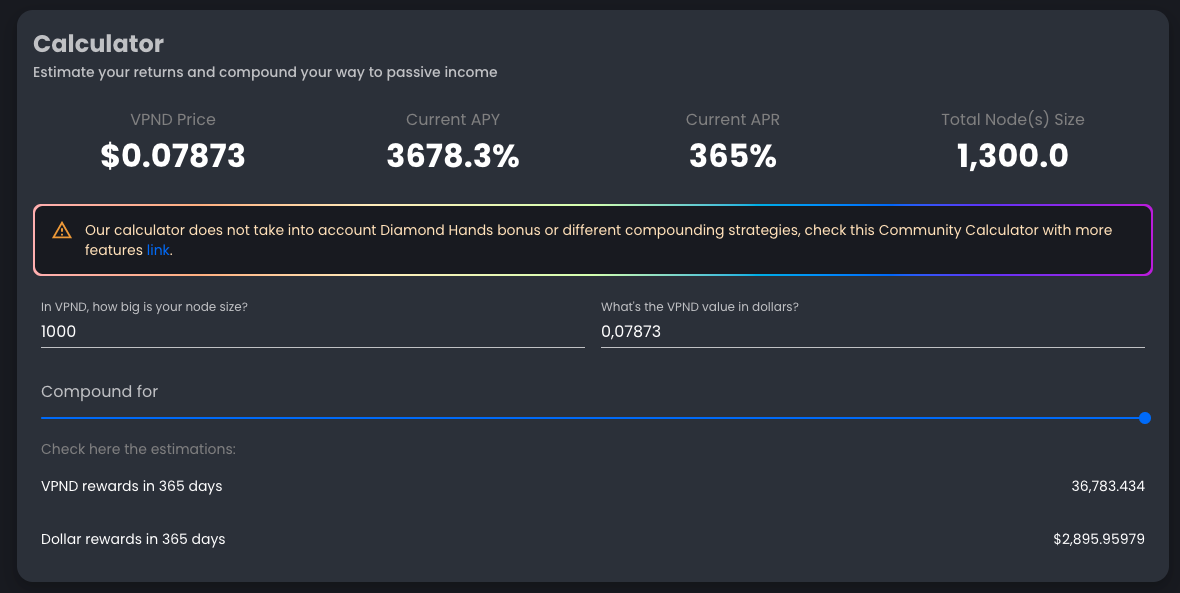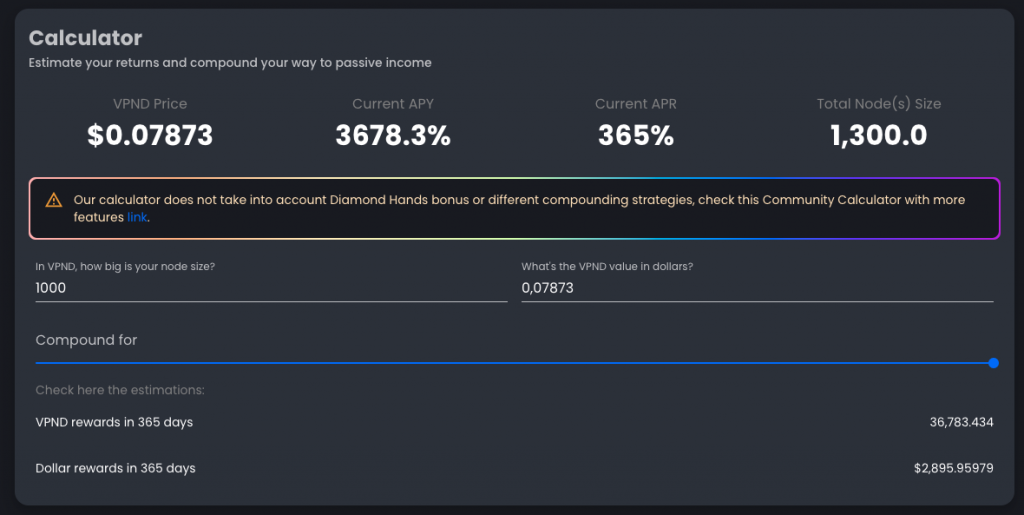 Do your own research though!
Vapor Nodes referral — what else should you know.
If you register and start your own node, you can get many more bonuses.
E.g.:
diamond hand bonus
compound bonus
referral bonuses
etc.
Check out their documentation to find more details.
How to get started with Vapor Nodes (Create a node!)
Getting started is not too hard, although it might have its own challenges. We did it this way, and worked well, on low fees:
Buy AVAX (Avalanche) on Kucoin.
Send your AVAX to your Metamask wallet. (Important: use the Avax C-Chain network!)
Go to Vapor Nodes' website.
Click: Nodes –» then Create Node. This will say that you don't have enough VDNP in your account but it'll also point you to Trader Joe's where you can swap your AVAX to VDNP.
Swap VDNP.
Go back to Vapor Nodes and create your node.
Done!


Risks
As all investments, investing into VDNP and creating Vapor Nodes involves risks. As we are talking about crypto and NaaS, the risk is considerably higher than at other investment types. A few types of risks you should think about:
partner risk (multiple partners: AVAX network, Vapor Nodes, Metamask, etc, etc.)
rug-pull risk… as always with small crypto projects
exchange rate risk (e.g. it's possible that VDNP can go down faster than you accumulate your rewards)
etc.
Still up for it? Then go ahead and create your first Node with our Vapor Nodes Referral link.
Disclaimer – VaporNodes referral
Nothing you read here should be taken as financial advice.
If you need financial advice, consider seeking independent legal, financial, taxation or other advice — with them you can also check how this article relates to your unique circumstances. We are not liable for any loss caused, whether due to negligence or otherwise arising from the use of, or reliance on, the information provided directly or indirectly, by use of this article.
PromoCode Team